Hi Everyone
Which ink is best for stamping?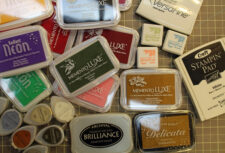 The lovely people over at Scrapbook.com have given us a comprehensive guide on different inks you can use for stamping.  answer to this depends on what your stamping goals are. Because there are thousands of types, brands, and colors of stamping inks, the options can seem endless. There are a few main types of inks to choose from: dye inks, pigment inks, chalk inks, solvent inks, specialty inks, and hybrid inks. We've broken down the different types of stamping ink below so you can have a better sense of which ink you should purchase or try! 
The most popular ink pads for stamping are:
Exclusive Ink Pads and Reinkers
What are Dye Inks?
Dye inks are considered the "standard ink" for stamping. They're easily the most popular and utilized. These are the ink pads that you see more often than not. Within the general dye ink category, there are a variety of different types of dye inks, like distress inks, waterproof dye inks, and water-based dye inks. 
What Are Distress Inks?
Distress inks are water-based dye inks, but they are a bit special because they take longer to dry than standard dye inks and create a really fun, aged effect on your paper. One of the most popular distress inks on the market is the Ranger Ink Distress Inks.
What Are Waterproof Dye Inks?
Waterproof inks are dye-based and will not run or bleed if contact with water occurs. These are great for watercolor techniques, because you can stamp an image onto your watercolor paper or cardstock, wait a few moments for it to dry, then paint on top with watercolor!
A few popular waterproof dye inks are:
Versa Fine Black 
What are Pigment Inks?
Pigment inks are opaque and on the heavier side when it comes to ink and usually have a glycerin base. The ink tends to sit on the surface of your paper vs being absorbed into it which creates a more solid effect when stamping. The result is thicker like paint. 
When Is It Better To Use Pigment Inks?
Pigment inks are great for scrapbooking projects since they don't tend to fade quickly. They're also great for embossing due to their thick consistency. 
Pigment Ink Pros: Pigment inks are solid in color and opacity. 
Pigment Ink Cons: The pads themselves tend to dry out more quickly than dye ink pads, so reinking might be more frequent. Also, because they are thicker, they take longer to dry and sometimes need assistance in drying, like using a heat gun or tool. Such as Heidi Swapp's Heat Tool or Hero Arts'. 
We carry a beautiful, exclusive pigment ink in white that's also perfect for creating faux chalkboard effects. 
What is the difference between dye ink and pigment ink?
Dye ink is more transparent, thus more able to be absorbed. It dries quickly. Pigment inks are heavier and more opaque, so they tend to sit on top of your paper, versus getting absorbed down into it. Because of that, they take longer to dry. 
Note: Check out this great video on the difference between dye inks and pigment inks! 
What is StazOn Ink?
StazOn Ink is a permanent ink that is archival-quality. It dries very quickly and can be used on porous (cardstock) and non-porous (glossy paper, vinyl, glass, acrylic) surfaces. It's important to note that StazOn Ink may cause staining on your stamps. 
Happy Stamping